We all know about Zappos. Yes, you gotta love that when you order from them, you get your shoes pretty immediately, and you can ship them back for free if they don't work out. But searching for marigold-colored ballet flats on Zappos left me relatively unimpressed.
YOOX
, however, turned up pages and pages of awesome results, including some by truly noteworthy designers.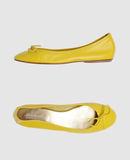 Top to bottom: Obeline, RAS, Chloe and Blowfish.

And just to show you how much of a range you can find, the Chloes sell for $230 while the Blowfish pair comes in at a whopping $35.